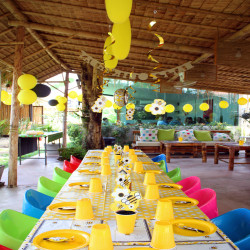 Kids Birthday Parties in Nic's Restaurant
We organize your party easy and with fun and serve our famous Nic's food from the Chef Kitchen to you and your guests. We take care about all the work and all the details and you have time to take care about your birthday child. Chiang Mai families love to socialize during a party in Nic's Restaurant.
Packages start from 5,000 THB but we offer as well upgrades to themed party decorations and themed cake designs (Pokemon, Minion, Frozen, Captain America-Superheroes, Spider man, Hello Kitty, Star Wars, Minecraft, Car, Pirate, My Little Pony, Little Mermaid, Unicorn).
With additional entertainments you can make your party even more exciting. (Play the Pinata, Bouncy Castle, Magic Shows, Balloon Twisting, Face Painting, Art Painting, Rock Painting)
To turn your party into music and dance we can prepare a disco and our entertainer can support the kids in dance and play (Disco Dancing or Neon Glow Party). These discos are very nice for school year-end parties as well.
Visit Nic's Restaurant and ask for the Party Booking Catalog. You are welcome to see the two possible party areas Bamboo Sala (outside) or Pirate Room (inside with AC). Both party areas are directly at our famous playground. Ask for the head waitress to discuss your party ideas and book all details easy and comfortable during a dinner in Nic's Restaurant.
Party Packages
NICS FOR FUN
Party Decoration & table setting
Invitation Card
Birthday cake
Kid's drinks
Kid's food

Up to 12 kids
+ 200 THB extra child
BIG NIC
Party Decoration & table setting
Invitation Card
Birthday cake
Nic's T-shirt gift
Kid's drinks
Kid's food
Adult's food

Up to 12 kids and 12 adults
+ 200 THB extra child
+ 300 THB extra adult