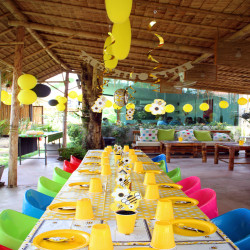 Nics Kid's Party in Chiang Mai
We organize your kid's party easy and with fun.We take care about the little details and you can take care of your little ones. Packages for kid's party start with 2,800 THB.
We offer additional theme party (like Pokemon, Minion, Frozen, Captain America-Superheroes, Spider man, Hello Kitty, Monster High, Star Wars, Minecraft, Car, Transformer, Pirate, My Little Pony, Mermaid) and as well additional entertainments (like Pinata, Bouncy Castle, Magic Show, Art Painting, Neon Glow Disco-Dancing).
Our entertainer can play games (like Treasure Hunt, Chair and Dance, Sack Race, Dart and Balloons or Pass the Candy Parcel) with the kids.

Party Packages
PICCOLINO
Party Decoration & table setting
Invitation Card
Birthday cake
Kid's drinks

Up to 15 kids
+ 100 THB extra child
NICS FOR FUN
Party Decoration & table setting
Invitation Card
Birthday cake
Kid's drinks
Kid's food

Up to 15 kids
+ 200 THB extra child
BIG NIC
Party Decoration & table setting
Invitation Card
Birthday cake
Nic's T-shirt gift
Kid's drinks
Kid's food
Adult's food

Up to 15 kids and 15 adults
+ 200 THB extra child
+ 300 THB extra adult